History was made at The British Museum on Wednesday 09/09/09 with the launch of WorldShift 2012, a new global movement dedicated to co-creating the foundations of a peaceful, just and sustainable world by the end of 2012.
WorldShift 2012 draws inspiration from the new book WorldShift 2012: Making Green Business, New Politics, and Higher Consciousness Work Together from the eminent Scientist-Philosopher Dr Ervin Laszlo, who developed integral systems theories and who writes about the Akashic Field that connects us all with each other and with the universe.
The evening was introduced by Dana Amma Day (Co-Initiator of WorldShift 2012 and Founder of Positive TV) and Jeremy College (Positive TV – pictured right), who united the panel and audience with a series of Qi Gung exercises, helping to demonstrate "the Akashic Field that unites us all with each other and with the Universe".
"The 09/09/09 meeting in London was a landmark event that will go down in history," said Dr Ervin Laszlo.
"It has marked the birth of the WorldShift Alliance, the movement that will bring together that group of dedicated individuals and organizations which will form the critical mass that can, and will, shift the world," he added.
Dr Jude Currivan
"The Declaration of WorldShift 2012 isn't just to acknowledge an urgent global state of emergency, but is a call to action to re-integrate heart, mind and purpose, to re-integrate and fully express the divine feminine in partnership with the divine masculine – within us all," said Dr Jude Currivan (Cosmologist, Healer and Author).
"The WorldShift 2012 Declaration is a call for us all to follow where the evidence leads to the acknowledgement – and enactment – of a whole-world view," said Dr Currivan.
"And it offers us all a clarion call, to come together and to dedicate ourselves as ever-more conscious co-creators to envisage and manifest the emergence of a global breakthrough. The launch of WorldShift2012 is a first but crucial step in co-creating a momentum of action. Martin Luther King once spoke of the 'urgency of the now' and the choices we make and the actions we take now and in the coming weeks and months and few years ahead will determine our collective future. There is literally no more time to lose!" she explained.
Rula Lenska reading the WorldShift 2012 Declaration
The WorldShift 2012 Declaration was given its first public reading by Actress Rula Lenska before a video message of endorsement from
Barbara Marx Hubbard
(Founder of the Foundation for Conscious Evolution) was shown.
Barbara was once described by the great Buckminster Fuller as "the most informed human on the planet". As her colleague, Darrell Laham pointed out when he introduced the video: "What an interesting distinction to make…"
Dr Robin Wood
A panel discussion around the WorldShift 2012 Declaration was hosted by Dr Robin Wood (Founder, Renaissance2), featuring
David Woolfson
(President of the Club of Budapest, Canada and Co-Initiator of WorldShift 2012), Hiroo Saionji (President, Goi Peace Foundation), Polly Higgins (Barrister and Founder of the Universal Declaration of Planetary Rights), Charlie Gay (Founder, Humanity Unites Brilliance) and Lawrence Bloom (Chairman, UNEP Green Economy Initiative: Green Cities, Buildings and Transport Sector).
WorldShift 2012 outlines the two stark choices we face: 'Business As Usual' or 'Timely Transformation'.
Gareth Strangemore-Jones
"Dr Laszlo concisely describes the effects of unsustainability in the ecology, in the economy and in society," said
Gareth Strangemore-Jones
, Co-Founder of Events4Change and Co-Initiator of WorldShift 2012. "He then offers us the hope that if we can collectively and consciously decide by the end of 2012 that we want to transition to a sustainable future, this can be achieved with dedicated and committed personal and collective actions," he added.
"WorldShift 2012 is an open and inclusive organization that seeks to unite and harness the conscious efforts of individuals, NGO's and social enterprises and to focus a collective effort towards meeting that 2012 decision window. We can all take responsibility by proactively and positively engaging in civic, business, media and personal activism," he explained.
WorldShift 2012 quotes Marco Rovida and seeks to create the conditions to allow us to shift from compulsive consumption to conscious consumption; from having to being; from living on nature to being a harmonious part of the ecosystem; from GM and pesticide-based agriculture to organic agriculture; from work based on 'having' to work based on 'being'; from overcoming others to giving consideration to others; from living superficially to giving meaning to one's life; from business is business to life is life; from personal interests to the interests of the community; from mutual-interest acquaintances to true friendships exploitation to respect; from conditioning to liberty; from inconsiderate consumption to ethical consumption; from mere formalities to sincerity; from being a spectator to being a participant; from money to love.
Lawrence Bloom
"The time to shift from for a truly global vision with a programme for action has arrived," said Lawrence Bloom. "Ervin Laszlo and WorldShift 2012 have both the capacity and the intention to deliver it," he added.
Hiroo Saionji
"We were privileged to witness the historical inauguration of WorldShift2012," said Hiroo Saionji. "The Goi Peace Foundation will fully support the Declaration and the movement in collaboration with other like-minded organizations and individuals," he added.
Charlie Gay
"The launch of a shift in the world calls for responsibility, a willingness to cooperate, celebrate and nurture the diversity of who each of us are and, in this space, be willing to co-create a future worth choosing with conviction and fortitude," said Charlie Gay from HUB. "WorldShift 2012 and its launch on 09/09/09 mirrored this experience that we are called to bring forward through our generation in human history. We are now witness to a road map being laid out and in this awareness we invite all to join us in the action of stepping together, and together our path will be made lighter," he explained.
"We send you heartfelt congratulations on your launch on 999," said Phil Stebbing from The Lifeline, who also launched on 09/09/09. "The whole of the UK Lifeline team was there to endorse the Emergency Declaration. The speeches were inspiring and there is total synergy in our missions. As film-makers we would like to offer our total support to WorldShift 2012. As we set off on our Lifeline journeys, we will be there to help provide you with pictures and vision to the crucial message you are sending out to humanity," he added.

"There IS an alternative way forwards, and YES we can wake up consciousness and create mass global sustainable solutions that will be a Lifeline for our future. All we need to do is see it," Phil explained.
David Woolfson
"
The WorldShift 2012 movement and WorldShift Alliance can have a significant positive impact on our collective future," said David Woolfson (Club of Budapest, Canada and Co-Initiator of WorldShift 2012). "They are co-creative and large-scale efforts to connect the many thousands of organizations and millions of people worldwide who share the vision and mission and of creating the foundations for a peaceful and sustainable world at this critical time in human history. Please join us!"
To sign the WorldShift 2012 Declaration online,
click here
.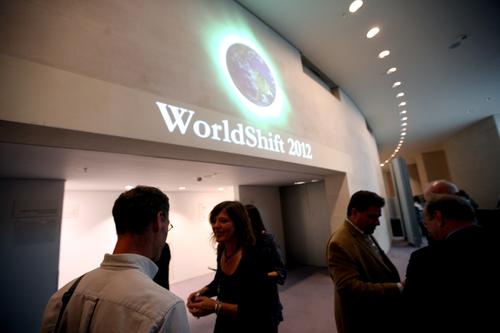 Dana Amma Day (Founder, Positive TV and Co-Initiator, WorldShift 2012)
Launch Event Photography
© Mike Chapman