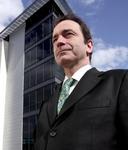 Gareth is Co-Initiator of the Worldshift 2012 Movement, Group Managing Editor of Worldshift Media and a Creative Member of the Club of Budapest.
During a career in communications spanning more than 20 years, he has consistently delivered measurable business-generating and awareness-raising integrated regional, national, international and new media campaigns and communications.
For charities and social enterprises, Gareth has raised significant funds and awareness and effectively managed corporate social responsibility from a number of business sectors. A Fellow of the Foundation for Social Entrepreneurs, he won an UnLtd Millennium Award and was featured in their publication: "What Makes a Social Entrepreneur?"
In January 2009, Gareth helped launch 999 It's Time, a new movement drawing attention to the state of Social, Economic and Environmental Emergencies we face combined with practical actions we can all take and effect change, even as individuals. For more, see www.999itstime.org
In 2008, Gareth co-founded Events4Change as a social enterprise specialising in producing, programming and promoting tansformational events. Events4Change is a Founding Partner of WorldShift. For more, see www.events4change.org
In 2007-2008, Gareth founded Ecoshelter, a new social enterprise / charity coalition that seeks to provide sustainable and community living solutions for Disaster Relief, Poverty Relief and Environmental Relief.
The day after Boxing Day in 2004, Gareth set up a new fundraising charity, Tsunami Relief, which focussed the public, Rotarians and sister organisations to raise more than £24million to help the physical, mental and emotional rebuilding of those communities shattered by the earthquakes off Indonesia and the subsequent infamous tsunami.
In 2003 – 2004, Gareth promoted The European Social Forum that came to London for the first time, sitting on the influential Culture Working Group. He soon realised that many creative people could align with the ESF's principle that "Another World is Possible" and so founded The European Creative Forum and co-ordinated and promoted its monthly "Visions of Another World" events.
In 2002, Gareth took a temporary consultancy with Brunel University. This complicated change-focussed communications task involved gaining the support of the local authority, Hillingdon Council; the Greater London Authority; the Department of Education; business and other stakeholders; staff, students and residents. During this term, Gareth took control as Head of PR. The consultancy was interupted when Gareth was stabbed in a racist attack on a friend of his, an incident that made him more determined to use communications to create a more open and tolerant society.
In 2001 – 2002, Gareth helped turn Callserve from a DotCom start up to a rare telco success with global marketing communications for what was then Europe's leading VoIP provider and their brand partners including Sony (The Sony Vaiophone); Freeserve (The Freeserve Webphone); Packard Bell; Real Networks and Microsoft (The xpPhone). With Callserve, Gareth helped Microsoft launch Windows XP as VoIP communications was one of the most exciting features of their new Operating System.
In 2000 - 2001, in association with ImageLine (the UK's leading Transport & Travel PR Agency), Gareth worked as Pan European PR Consultant for MOL (Mitsui OSK Lines – the largest shipping company in the World) and PANYNJ (The Port Authority of New York & New Jersey). As well as launching the first Environmental Statement from a global shipping company, he was responsible for the rebranding of MOL from Mitsui OSK Lines through an integrated advertising and PR campaign. For PANYNJ, he created and conducted their UK and EU communication strategy for their modernisation and expansion plans.
He is also a Freelance Reporter and Marketing Consultant with Worldshift Partner, Positive TV.
Gareth has two young children - Amora and Tommy. He cycles everywhere in his hometown of Penarth, just outside Cardiff, the capital city of Wales, and catches the train to London every fortnight with work.